6 reasons you'll fall in love with our Mayo hotel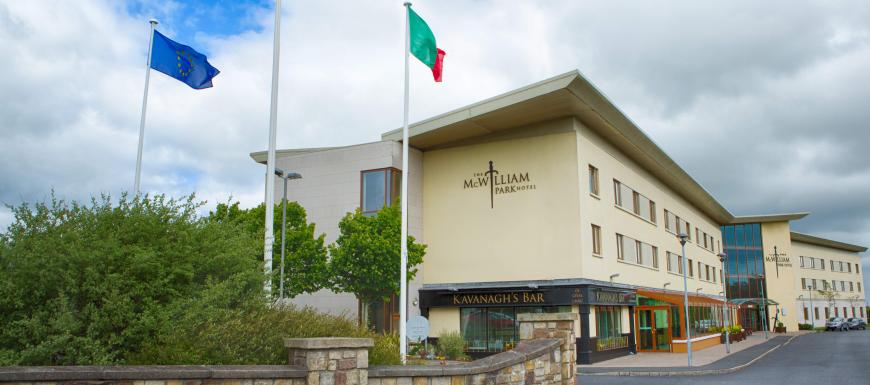 6 Reasons you'll Fall in Love with our Mayo hotel

From the beautiful Croagh Patrick to the vibrant nightlife of Westport, there is something for everyone in County Mayo. Whether you decide to explore the breath-taking landscapes or are here to relax with the whole family, why not choose the luxurious four-star McWilliam Park Hotel to base yourself. There are so many reasons to choose us for your family break but here are our top 6;
1. Spacious Family Rooms
Our spacious family rooms can accommodate up to 2 adults and 2 children comfortably in one double, one single and one camp bed. You can sleep the whole family in the same room and keep costs down while enjoying your special holiday. You can keep your eye on the little ones at all times too, which will add to your relaxation and enjoyment of your break – we hope!
2. Hotel Facilities
The McWilliam Park Hotels facilities are second to none. We have plenty to keep guests of all ages entertained, especially the younger ones. We can offer;
Swimming Pool – Our heated indoor swimming pool has a flat surface of 1.2m throughout with lane swimming facilities and a separate children's play pool. We also have experienced and encouraging swimming instructors to provide expert advice. 
Gym and spa facilities for adults – fitness classes like aqua aerobics at an additional cost. Prices for membership start at €1 per day or free for use for members. We can offer personalised fitness plans tailored to your needs. Our variety of machines and selection of weights can be suited to you and what you hope to achieve. 
Kid's menus – As a family friendly hotel we cater to guests and pallets of all sizes. Our kids menus in John Greys restaurant start from €12.50 all inclusive. We offer the kids menu year round.
Children kid's club - During school holidays Bizzie Bee's Kids Club operates, another way to keep the little ones occupied while you enjoy some R&R. 
Free parking - We have ample free parking on site for guests and visitors alike, one less thing to worry about. You do not have to pre-book parking.
3. Location
We are located in Claremorris, in central Connaught, midway between Sligo and Galway in the heart of beautiful Mayo and less than three hours from Dublin. Ideally situated to explore the rugged coastlines or discover the Wild Atlantic Way. You could enjoy a scenic drive along the shorelines or get out and paddle your feet in the Atlantic Ocean. 
4. Food & Drink
We are very proud of our restaurant here in The McWilliam Park Hotel. John Gray's restaurant boasts a relaxed and elegant atmosphere and food that has been locally sourced and prepared by our talented team of chefs. Check out our extensive wine list to make your break a little more relaxing. As a family-friendly hotel we also offer an impressive children's menu – along with some activities and colours - so there is something for everyone.  
5. Great Family Packages
We know how hard it is to keep children entertained especially over school holidays so we offer special rates for families over these times. The whole family, two adults and two children, will stay in one of our spacious family rooms for two nights. While parents enjoy a meal in John Gray's Restaurant on an evening of your choice, the kids can eat in the Bizzie Bee's kids club, leaving you in peace for a couple of hours. Full breakfast and complimentary use of the leisure centre and pool are also included.
Our family packages start from just €279 for a two-night stay for two adults and two children so you have no excuse not to visit our beautiful hotel.
6. Friendly Staff
The thing we are most proud of in the McWilliam Park Hotel has to be our friendly, well-trained and helpful staff. You will always find the famous Irish Céad Míle Fáilte (hundred thousand welcomes) with every staff member you encounter, from reception to service staff. We will leave you with a smile on your face and coming back to visit us again and again. Why not give us a try and allow us to wow you!
For more information about our packages email: info@mcwilliamparkhotel.ie or call us on 094 937 8000.
---